Public Works News
5-month road project starts June 5 on Chiwawa Loop
Posted By: Public Works on June 02, 2017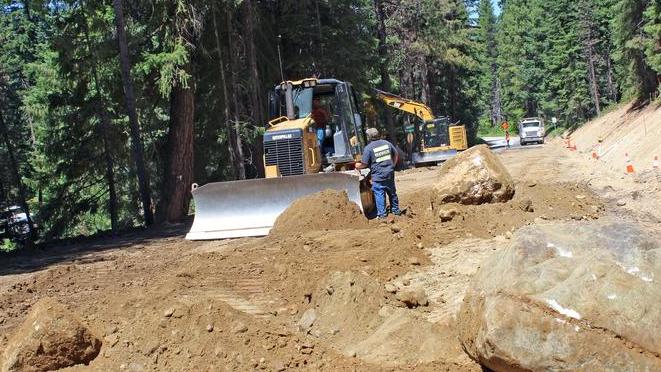 Chelan County Public Works reminds residents that work begins Monday, June 5, on the Chiwawa Loop Phase III road reconstruction project.
Motorists can expect to see minor traffic delays the first week of construction, as Reece Construction Co. will be installing construction traffic control signs along the project area. The following week (June 12), the contractor will commence clearing and grubbing from Sumac Lane to Wending Lane, which will require one-lane flagging with up to 20-minute delays.
The project, which will take about 85 working days, includes reconstructing the roadway from Wending Lane to Sumac Lane (mp 3.35-mp 4.57). In addition to a new roadway base and surfacing, the project will also widen the road from 22 to 30 feet, improve drainage and roadway geometrics, and install guardrail.
Contracted crews will begin at Sumac Lane and work their way back to Wending Lane. Most weeks, crews will be working 7 a.m. to 6 p.m. Monday through Thursday. The contractor may be working some Fridays as the project progresses.
At this time, a five-day detour is planned for July 24-28 so that crews can install a box culvert. Those dates will be confirmed as the project gets underway. The detour will be via Beaver Valley Road and Highway 207.
On May 30, Chelan County commissioners approved a temporary speed limit reduction on Chiwawa Loop Road in the project area. The speed limit reduction is necessary because during construction roadway widths may be temporarily reduced or lanes may be temporarily closed. Beginning June 1, the speed limit will be reduced to 25 miles an hour until such time that construction is substantially complete.
Other impacts to motorists and homeowners:
The road will be down to one lane during the day, with flaggers and pilot cars controlling traffic.
Motorists should plan for up to 20-minute delays at times.
Access to properties will be maintained. This includes access for mail delivery, garbage pickup, etc. If a driveway will be impacted, Reece Construction will contact that property owner directly.
Watch the Chelan County Public Works Facebook page for updates.