Meet Gambit of the Chelan County Regional Justice Center!
(Photo by Washington State Department of Corrections)
The Chelan County Regional Justice Center is introducing the community to its newest team member – super sniffer K9 Gambit, a 3-year-old border collie mix.
In August, the jail lost its narcotics-detecting canine, K9 Kait, when she unexpectedly died from a liver condition for which she was being treated. Gambit had already been identified as a possible candidate to work alongside Kait and K9 handler Deputy Jacob Lewis.
Gambit was certified in September by the Washington State Department of Corrections (DOC); he has been working in the jail for about a month. Gambit is trained on detecting six odors, including fentanyl.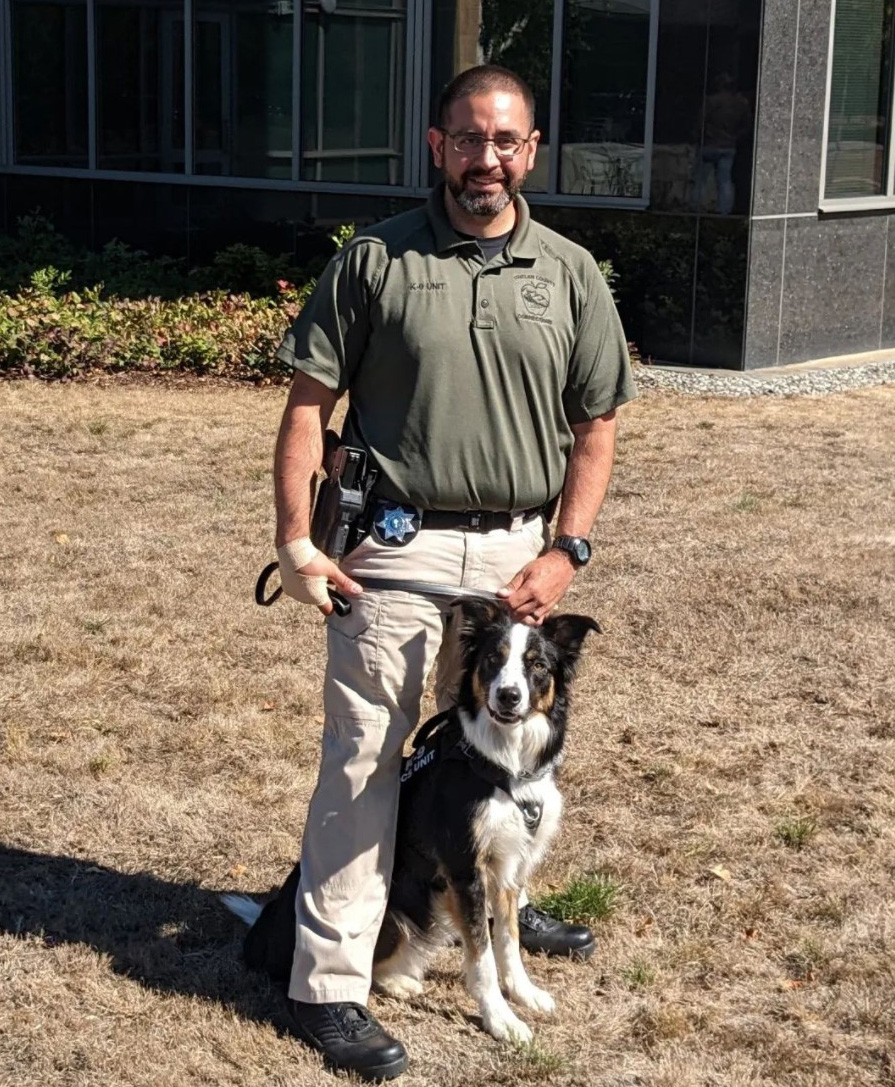 "We rely heavily on canines at the Chelan County jail," Director Chris Sharp said. "News of Kait's passing got out fast among the incarcerated in our facility. Just the presence of a canine can be a deterrent for anyone considering transporting narcotics into the jail. These dogs are vital to our drug interdiction program and we're happy to have Gambit on board."
A rescue dog, Gambit comes to the jail via the DOC. A private donor rescued Gambit from an abusive situation and then donated him to the DOC K9 program.
Sharing some facts about Gambit, Lewis said that the young dog is highly energetic and driven. He enjoys the water and is already known among staff for his love of playing fetch. In fact, his work toy, a reward for finding narcotics, is a ball.
"I'm excited to see how Gambit will continue Kait's legacy, and he's already shown he is up to the challenge," Lewis said. "In a month, Gambit has had two finds in the jail, including one find that contained fentanyl."
While it's unclear how Gambit got his name, Lewis had the opportunity to change his partner's name during training but then thought better of it. A self-described comic book nerd, Lewis immediately thought of the similarly named Marvel Comics X-Men character.
"I thought his name was cool," Lewis said. "Gambit will make a great addition to the Chelan County family."
The community can follow along with K9 Gambit and Deputy Lewis on Instagram or TikTok at k9_gambitandlewis.
Last Updated: 10/19/2023 09:58 AM