Impact of New State School Tax
The new school funding model is designed to shift the burden of paying for basic education off local levies, which originally were intended for enrichment activities. Engrossed House Bill (EHB) 2242 caps local school Maintenance & Operation (M & O) levies for 2019 collection at $1.50 per $1,000 of assessed value. But in 2018, taxpayers in school districts throughout the state will see an increase in their combined local and state tax rate, as the new state tax kicks in before the old local M & O levy rates are phased out. This year, everybody is going to be paying more in property taxes because of the overlap.
Legislation passed in 2017 adds more money for public schools through a new state school tax. EHB 2242 increases the state school general tax in Chelan County by 42 percent in 2018.
The State School Tax is now identified in 2 parts. The original at $2.03 per $1,000 of assessed value and the EHB 2242 addition (State School 2) of $1.10 per $1,000 of assessed value. Qualifying seniors/disabled persons are exempt from the State School 2 tax. For more info visit: https://dor.wa.gov/get-form-or-publication/publications-subject/tax-topics/funding-education
Questions concerning this new state school tax should be directed to your state legislators. Questions regarding the 2019 limitation on local M & O levies (renamed to Enrichment) should be directed to either your school district superintendent's office or the North Central Educational Services District. Click here for legislative and school contact information.
Assessor Welcome Message
Last year I invited you into our "assessment" world and make sure every taxpayer had an opportunity to become involved and engaged in our annual update process. I have made a commitment to keep our office transparent and available to the public, and I intend to promote that concept with continued community outreach meetings, planning more senior citizen workshops and constantly updating and improving the information available on our website.
Our annual Community Outreach meetings will continue, and I encourage you to attend one. We do a short presentation of the assessment process and then open the floor for questions and answers. The intent of these meetings is not to gain consensus, but to disseminate information and give the taxpayers an open forum to ask questions of our office.
As the real estate market changes from year to year, and more specifically, from area to area, there will be demand fluctuations in certain areas, resulting in fluctuating market adjustments. This is normal, and moves around the county as areas reach their saturation values. I know that it is frustrating seeing your value change from year to year, but the real estate market relies on buyers and sellers, and those desires to buy/sell change frequently. Typically our market is 12-24 months behind the trends we see on the west side of the mountains. The market in 2017 was strong and stable in Chelan County.
One thing to keep in mind as you look at the values on either a Notice of Value or a Tax Statement is that these values are based on sales from prior years. For example: Taxes payable in 2018 are based on sales primarily from 2016 & 17. As you can see, even in the annual revaluation process, the data is less than current. Most, if not all, of the sales data that are used to value your property can be found on our website database and GIS.
The newest bit of legislation for the 2017/2018 legislative session introduced a new State School tax that is rate based vs. the budget based levies every other taxing district enjoys (with the exception of lid lifts). The new State School tax will add another $1.10 per $1,000 of assessed value to most tax statements in Chelan County. This was the legislatures answer to addressing the McCleary court case regarding the state's requirement to fully fund schools. Next year you will see a cap on the local school districts M&O levies.
I want to personally thank you for your patience and understanding. It is a pleasure to be able to serve the taxpayers of Chelan County.
If you have any questions please feel free to contact me at (509) 667-6367 or deanna.walter@co.chelan.wa.us.
Sincerely,
Deanna Walter, Chelan County Assessor
What We Do
The Assessor's office is responsible for determining the value of all taxable real and personal property in the county on a fair and equitable basis, along with maintaining accurate and accessible property information, providing timely and accurate assessments for tax purposes, and a detailed parcel map showing all parcels within the County. Chelan County is now annually updating all properties according to market sales, and continues to do physical inspections of every property on a 4-year cycle. Washington State law requires property to be assessed at 100% of fair market value.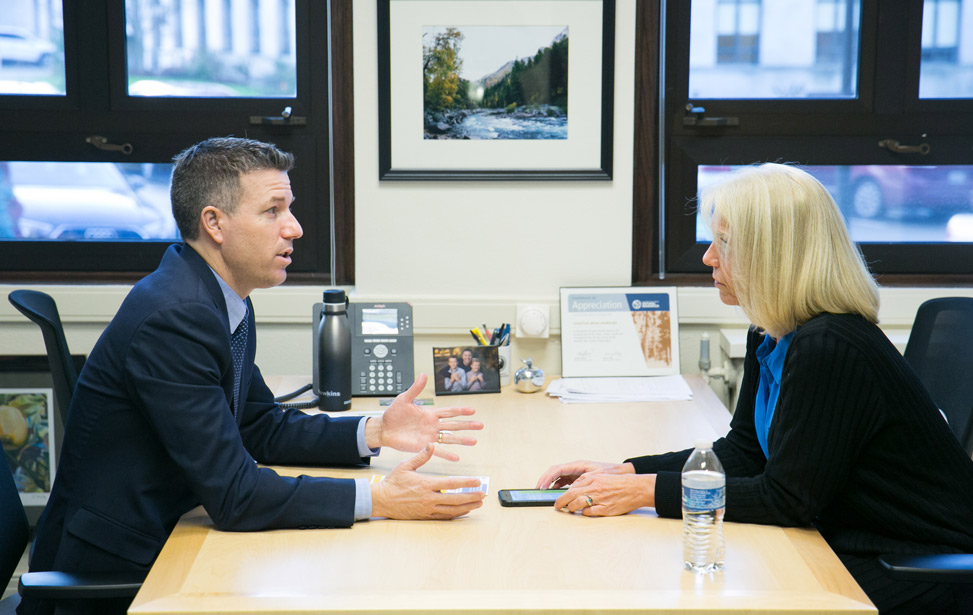 Your Assessor in Olympia with legislators, working for you!
Your property taxes fund state and county services, including roads, transit, schools, libraries, parks, hospitals, fire and rescue, law enforcement, environmental and social services. Information such as parcel numbers, ownership, tax code areas, and assessed valuations for all property within the county can be obtained on-line through the property search of the Assessor's web site, or by calling the assessor's office during business hours.