Projects
Common Crupina
Common crupina is a Class A weed in Washington state, requiring eradication. The only population of this weed know to occur in the state is in Chelan County in the steep slopes on the north side of Lake Chelan.
The weed management plan is short term containment and reduction within contained areas, and eventual eradication. This goal, while very difficult because of logistics, is achievable because of the geographic isolation of this infestation, lack of road access, and natural barriers that are helping to keep the infestation in place.
The control methods have been the direct treatment of crupina plants by either hand pulling or backpack spraying. Additional activities include survey and monitoring of previously treated areas, currently un-infested areas, and recently disturbed areas (fire areas).
Our long-term conservation outcome is the containment, reduction, and eventual eradication of common crupina from the only known site in Washington State. Crupina does not grow under dense, forest canopy cover, and is typically shaded out by about 2500 feet elevation. The steep mountain range between Lake Chelan and the Methow valley to the east serves as an effective natural barrier for crupina. Likewise, Lake Chelan is a barrier along the west side of the infestation. The steep cliffs on the south end of the infestation were not grazed by livestock and are not infested. The south boundary is monitored yearly. At the northern end of the infestation, at the boundary of the National Park Service Land, the aspect changes, and shady forest grows along the lakeshore. Unfortunately the Flick Creek fire burned this northern end of the infestation in 2006. The burned area is monitored yearly
This outcome is very important for several reasons: winter range; loss of shrub steppe/dry forest eco-zones throughout Chelan County due to development; climate change; sensitive plant protection; threatened and endangered wildlife, wilderness and National Park management goals; aesthetic values; native plants and animals, water quality, and protection of economically valuable crop and range lands throughout Eastern Washington.
Eurasian Watermilfoil
Aquatic weeds, including Eurasian watermilfoil, impact public uses such as swimming, fishing and watersports. The abundance of aquatic weeds prevents the public from using these areas to their fullest extent. Thus, reducing the level of infestation will improve public access in order to maintain or improve existing uses. It will also reduce the number of satellite populations becoming established downstream
The goals of this project are to work collaboratively with project stakeholders to collect data to support the development of an Integrated Aquaic Vegetation Management Plan (IAVMP) to control Eurasian watermilfoil in the Colmubia River system using best management practices.
Current control methods, such as use of a harvesting machine, create plant fragments that spread down river and create new satellite populations. Through the development of best management practices documented in an IAVMP, annual control efforts would be approved and implemented in order to improve public access at this location and reduce the spread of Eurasian watermilfoil to additional downstream locations.
This project has statewide and regional significance. Economically, the City of Entiat has applied and received 6 million dollars to improve waterfront access. Public access will require aquatic weed control and current methods may be enhancing the spread of Eurasian watermilfoil downstream. In addition to improving public access locally, controlling Eurasian watermilfoil will improve fish habitat. There are local, state and federal efforts to improve fish habitat for ESA listed species such as Upper Columbia Spring Chinook, Upper Columbia Steelhead, and Bull Trout. Reducing crurrent levels of infestation and limiting the establishment of new milfoil populations will contribute to salmon recovery efforts in the Upper Columbia.
Knotweed Control Project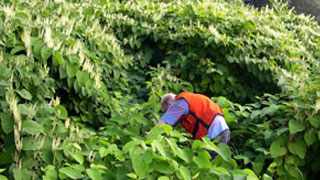 The Knotweed Control Project began June 1, 2009 to survey, identify and control Noxious Weeds in Chelan County with a Participating Agreement and Title II grant funding from the US Forest Service. Mission Creek was selected as the target area.
As the survey progressed, we obtained Washington State Dept. of Agriculture permission contracts to enter and treat at the same time. Based on the density of the Knotweed stands it was estimated the treatment program would be a multi-year project This project is a very large multi-year project, Japanese Knotweed is a very aggressive competitor reproducing mainly by rhizomes. The intent of the project is to stop the spread of Japanese Knotweed in its current locations through a multi-year spray program, which has been proven to be the best way to control Knotweed.
Japanese Knotweed has invaded many of the most important tributaries to the Columbia River system; one example is Mission Creek, which is part of the Wenatchee River Watershed Action Plan 1998. Mission Creek has a monoculture understory of Japanese Knotweed along the lower 3 miles. This is only one of many drainages that have been inventoried, and each drainage is part of an endangered species anadromous fish migration and spawning waterway.
Japanese Knotweed can and will change the hydrology of the entire drainage if it is left unchecked. To recap the action items for this project: complete inventory and mapping, spray or remove invader species in areas that are currently identified, provide an education program to the public to assist in continued control efforts, and replace sprayed Knotweed with native understory plants, a cooperative project with the Wenatchee River Watershed Action Plan, Chelan County Natural Resources Dept., and District.
Yellow starthistle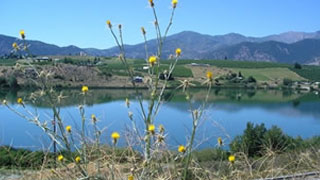 Yellow starthistle is currently of limited distribution in Chelan County. We have identified populations in 7 different areas around the county with 20 different land owners. The objective of the Yellow Starthistle Control Project was to reduce the larger infestations to a size manageable by land owners and to reduce the seed production on all parcels to prevent further infestations.
The goal was to reduce the size of the infestations and to bring the outer borders in away from the native vegetation and closer to the homes and pastures where the weed is
Brisky Canyon west of Cashmere, about 12 acres, was selected as the project area. We secured the cooperation of some landowners, individually and in groups, who sprayed or hand pulled.
The project began in mid-May 2011 with site inspections and either hand pulling or back pack spraying. Treatment will be the use of picloram at a rate of 0.25 to 0.375 lb ai/Acre to insure control for a two year period. Treated areas were flagged and inspected in late June to early July to catch plants that had been missed. The project will end 2013 and landowners will be encouraged to follow up on the treatments in the future to prevent the population from growing out of control again.