Mission Creek Restoration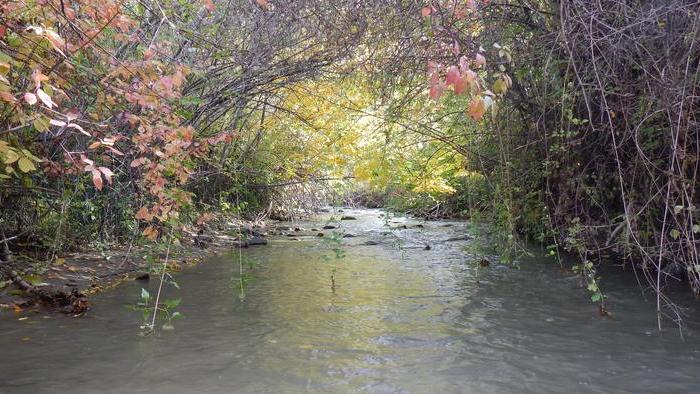 Chelan County, with support of Washington State Depart of Ecology's (DOE) Water Quality Program, has convened a Mission Creek Watershed Council in effort to address and develop solutions for the myriad of water quality factors and associated issues within the Mission Creek Basin.
The Council is made up of a broad group of stakeholders representing local, state, and federal agencies, private landowners as well as irrigation and agricultural interests.
Background:
Mission Creek is the smallest tributary to the Wenatchee River but is home to approximately 21 percent of the Wenatchee watershed population, including the City of Cashmere. The U.S. Forest Service manages most of the uppermost portion of the watershed, with some privately owned forest. The lower watershed is dominated by commercial agriculture and urban development.
Mission Creek has a long history of very low stream flow and water quality issues including 303(d) impairment listings for in-stream flow, DDT/DDE, fecal coliform, temperature, dissolved oxygen, and pH. The Department of Ecology has completed Total Maximum Daily Load (TMDL) studies in 2004, 2008, and 2012 for temperature, fecal coliform, and DDT/DDE which established target reductions of contamination and recommended actions to achieve those reductions. Most of the improvements rely on voluntary Best Management Practices (BMPs) to be implemented by landowners. Please see links to technical resources regarding the TMDLs, Riparian Buffers, Septic Systems and Noxious Weed Eradication for more information.
Upcoming Meetings and Contact Information:
Chelan County Natural Resources is currently planning a large community meeting to be held in Spring 2018 at the Riverside Center in Cashmere. Specific time and date has yet to be determined but will be listed here.
The Mission Creek Watershed Council currently convenes on a bi-annual basis. If you are interested in joining or have questions regarding any information provided on this page, please contact:
Pete Cruickshank 509-667-6612
pete.cruickshank@co.chelan.wa.us
Current Project Development:
The Chelan County Natural Resource Department in conjunction with the Mission Creek Watershed Council, is currently reviewing projects in order to develop an integrated project list. This list will be founded in improving conditions in Mission Creek that will meet the multiple stakeholder needs. Currently, appraisal level evaluations and pilot projects aimed at ground truthing these solutions are underway. As these project appraisal and pilot reports become final, they will be uploaded below.
Upper Watershed Alluvial Reservoir Pilot:
Technical Resources and Links:
Riparian Buffers:
Septic System Information and Guidance:
Information Regarding Noxious Weeds: