Public Works
West Cashmere Bridge Replacement (CRP 693)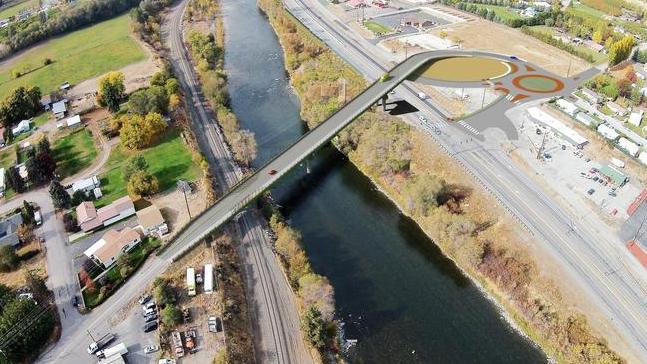 CONSTRUCTION UPDATE
POSTED MAY 21, 2020: The county's contractor will be installing storm drainage pipes on Goodwin Road and Ruby Street the week of May 25. (Crews will not be working on the Memorial Day holiday.) The containment system being built under the bridge is nearly complete, with demolition of the bridge planned for June.
On May 27-28, Chelan PUD will be pulling new utility lines over Highway 2/97. Possible delays of up to 15 minutes will occur both days, between 7 a.m. and 5 p.m. Flaggers will be stopping traffic in both directions for the minor delays. The delays will be just east of where the highway intersects with Hay Canyon Road.
The West Cashmere Bridge and Goodwin Road are closed. Goodwin Road is open to local traffic, which includes customers and vendors visiting the businesses on Goodwin Road.
Do you live in the project area? Visit our Open House page to learn how construction will impact you.
Construction News
Chelan PUD utility work in the project area
Press Release: County Awards $19.3 million Contract to build new Cashmere Bridge
Letter to Local River Rafting and Kayaking Companies (March 4, 2020)
Project Description
The West Cashmere Bridge is a 91-year-old, fracture-critical bridge, both functionally obsolete and structurally deficient, with a sufficiency rating of 25.18. It is currently posted for both weight and height restrictions. The new structure is proposed to be constructed in approximately the same location as the existing bridge. The proposed bridge is estimated to be 44 feet wide and 1,000 feet long. In February 2020, a $19.3 million contract was awarded to SB Structures of Seattle for the construction of the new West Cashmere Bridge.
In 2012, through these fracture-critical inspections, it was estimated that within 10 years there would be a substantial decrease in the bridge's load-carrying capacity – due to the progressive deterioration of the structural elements – unless major rehabilitation of the bridge's structural components are performed.
The Chelan-Douglas Transportation Council has considered the West Cashmere Bridge Replacement Project to be of regional significance and is one of the top three priority projects within Chelan and Douglas counties.
Estimated Construction Schedule
The full construction schedule is available here. Please note this is an estimate. The schedule is subject to change and is provided as a general guide.
Recently Completed:
The bridge and Goodwin Road were closed on May 4, 2020. Local access only on Goodwin Road.
Soil removal from the county's property off of Hay Canyon Road is complete.
Ongoing:
A containment system is being built under the bridge in preparation for future bridge demolition.
Storm drainage work will occur on Goodwin Road and Ruby Street.
Upcoming:
May: The contractor will begin building a large geosynthetic wall on the North Approach.
June: Bridge demolition starts.
Funding
The West Cashmere Bridge Replacement Project is being paid for with a variety of federal, state, local and private funding.
| | |
| --- | --- |
| Project Total | $25,500,000 |
| AWARDED | |
| Bridge Replacement Advisory Council | $12,000,000 |
| Freight Mobility Strategic Investment Board | $3,000,000 |
| Rural Arterial Program | $2,500,000 |
| Legislative Discretionary (WSDOT) | $2,000,000 |
| Statewide Transportation Block Grant Program | $2,450,037 |
| Highway Improvement Program | $149,963 |
| Private (Crunch Pak) | $150,000 |
| WSDOT (NC Region) | $270,650 |
| Chelan County | $2,979,350 |
Posted: 07/28/2015 11:57 AM
Last Updated: 05/21/2020 10:19 AM