Traffic Alerts and Restrictions
Current Restrictions
Temporary weight restrictions are in place on Chelan County roads in the Wenatchee, Chelan, Entiat and Cashmere districts. The number of weight-restricted roads is expected to grow.
Seasonal snowmelt and runoff can soften roadways, potentially leading to costly damages. Temporary weight restrictions are put in place annually to protect the roadways from such damage. Only emergency vehicles, school buses or vehicles possessing a special permit issued by the County Engineer are exempt.
The free permit is available HERE. For an updated list of restricted roadways, visit the link below.
Haulers are reminded that applications must be in by 10 a.m. Monday through Thursday for approval for travel the following day. (If you need a permit on a Monday, the application must be in by 10 a.m. Thursday.) Freight haulers who do not have a permit to travel on a weight-restricted road risk a fine as well as the cost of damages for any road repairs. The permit must be displayed in the lower righthand corner of the vehicle's windshield.
Seasonal road restrictions also are in place for Oklahoma Gulch Road in the Entiat District and Burch Mountain and Horse Lake roads in the Wenatchee District. Click on the link below for the complete list of current road restrictions in Chelan County.
Weight-Restricted Bridges
Several bridges in Chelan County are under weight restrictions at this time. For these bridges, the gross weight for vehicles must not exceed the limits set forth by the laws of the State of Washington. It is unlawful for the operator of any vehicle to drive upon these bridges when the gross load limit exceeds the weight in tons as set forth for these bridges. Resolution 2017-20 lists these bridges and their current load restrictions:
Resolution 2017-20 Amending Resolution 2014-104 Bridge Weight Restrictions
In addition, new load-rating signs have been installed at some Chelan County bridges because of changes in federal requirements.The new federal requirements take into account Specialized Hauling Vehicles, or SHVs, and their ability to haul maximum loads allowed by law.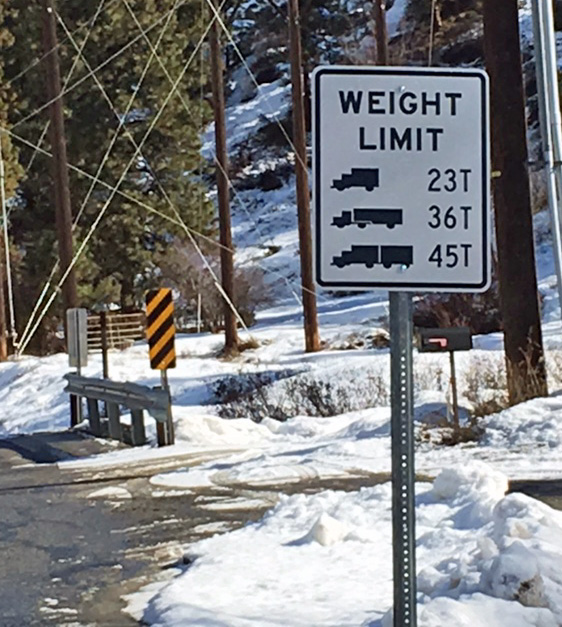 SHVs are closely spaced, multi-axle, single-unit trucks that were introduced by the trucking industry in the last decade. These trucks oftentimes consist of moveable axles that raise or lower as needed for weight, allowing them to carry higher loads concentrated over shorter distance. Examples include dump trucks, construction vehicles, solid waste trucks and other cargo-hauling trucks.
Since the 1975 adoption of the American Association of State Highway and Transportation Officials family of three truck configurations carrying legal loads, the trucking industry has introduced specialized single-unit trucks with closely spaced, multiple axles that make it possible for these short-wheelbase trucks to carry maximum loads of up to 80,000 pounds and still meet the Federal Bridge Formula equation, called Formula B.
The AASHTO truck configurations selected in 1975 that match the Formula B equation do not represent these newer axle configurations. These SHV trucks cause compression and tension in bridges that exceed the stresses induced by the AASHTO Type 3, Type 3S2 or Type 3-3 legal vehicles by over 50 percent in certain cases, according to the federal government. The shorter bridge spans are especially sensitive to the newer SHV axle configurations.
The Federal Highway Administration requires every public bridge owner to post bridges for SHVs that do not pass a load rating analysis for these vehicles, in addition to the current standard legal vehicles. Those county-owned bridges in Chelan County that are impacted by the new federal regulations are listed in the resolution.
If you have any questions regarding road restrictions in Chelan County, please call the Public Works office at (509) 667-6415.